Part 2 in the series "Adaptable//Sustainable: DIY Home Adaptation//Remaking Your Space to Work for You."

____
Gut check: how often to you really use your formal dining room? Compare this to how much that square footage is costing you each month in your mortgage. And, do you really need two tables and two sets of chairs? Why is it that one of the most beautiful rooms with the nicest furniture is hardly used? We have an open kitchen with a combined living/dining area, and since this is our only dining area, it is on the more formal side. If you have a formal dining area, why not use it every day? Your breakfast room may already be used as the default office. Below are tips on how to use your formal dining room for everyday meals, and convert your existing breakfast nook to the home office.
____
Formal Dining Room: Keep it special yet functional (these apply especially with young children)
Have 5-7 sets of place mats and switch them out each night when you clear the table. Throw them in the wash each week with the sheets or rags or wash them with the dishes, depending on the type. Having the table always set will keep the table from getting cluttered and will keep the room looking special.
Or, for everyday meals, use a table cloth.
If there's a rug under the table, make sure it's durable and easy to clean.
Always keep a center piece on the table. If you have a garden, keep a vase stocked with fresh cut flowers. If you are like me and don't have a green thumb (or a garden), have a few fake options that you switch out. Or, cluster candles on a formal tray.
Now that your dining room is ready for everyday meals, it's time to convert the breakfast nook to a more functional space. If you have a breakfast bar built into your counter space, you can use this for meals also. Now is the time to invest in some comfy bar stools. If you don't have a built-in bar, you can buy a free-standing one to replace your kitchen table.
The breakfast nook office is a new take on the traditional hearth room off of the kitchen. After school, the kids can gather to do homework while a parent works in the kitchen. The computer can be easily accessed for recipes or for watching TV or movies while cooking. The kitchen is the heart of most homes, and combined with the adjacent nook-turned-office it becomes the control center. This also keeps a bedroom from having to be used as an office.
Does everyone in the family have a laptop? Create a cozy space by grouping a love seat and some comfy chairs around a storage ottoman that double as a table. The laptops go in the ottoman when they are not in use.
A storage ottoman provides storage space for laptops while doubling as a coffee table. Coaster storage ottoman on Amazon
. 
Be sure to protect yourself and your family by using a lap desk for your laptop. Creative Essentials LLC lapdesk
on Amazon.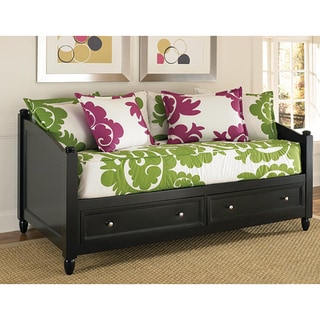 As part of the seating cluster, or as the main soft seating area, place a day bed in front of the window to substitute for a built-in window seat. This can be used while working on a laptop, taking advantage of a nearby book shelf, or for relaxing while chatting with the cook. Bedford Day Bed.
A two-sided desk like the Expedit from Ikea provides multiple homework spaces and storage space.
Chances are your existing breakfast nook doesn't have a closet, but you need an out of sight place to store those binders, software CD's and office supplies. This Pax Wardrobe from Ikea is perfect for keeping the clutter hidden. Or, use a desk that can be closed up. Hint: you don't have to weighed down by of those manuals. Most manuals are available online. 
Don't want to look at your office all of the time? Keep the desk hidden also. Hemnes Secretary from Ikea. You can also find nice antique secretaries on Craigslist or at consignment stores.
____
By converting your breakfast nook into an office, you are saving valuable square footage by getting rid the the redundant double dining space. Also, a bedroom is often not the ideal place for an office, since often an entire bedroom is not needed, and you want to keep an eye on kids computer use. Since all ages are now spending more time on the computer, why not at least spend that time in the same room, and why shouldn't that room be adjacent to the room where everyone wants to be and always ends up: the kitchen. If  needed, you can use my favorite cheap substitute for square footage: headphones or ear plugs.
____
Next week: Adaptable//Sustainable: Formal Area Conversion
_
This post originally appeared in my "Redesign Without the Remodel" series on D+A Studio's blog in 2010.